3-Days Skill development of Mushroom cultivation for NER
---
3-Days Skill development of Mushroom cultivation for NER was organized by the department of Biotechnology, funded by Rajiv Gandhi National Institute of Youth Development (RGNIYD). 56 participants from different colleges such as Pachhunga university college, Govt. Zirtiri Residential Science College and Govt. Johnson College students participated in the program.
BACKGROUND
Mushrooms are vital food in a country like India where vegetarian dominate and moreover to overcome malnutrition and to tackle food insecurity. FAO has recommended mushrooms as a food item contributing to protein nutrition of the developing countries. Cultivation of the oyster mushroom has various advantages as it converts complex organic ligno-cellulosic compounds into nutritious food, aids recycling of agro-waste, contributes to pollution control, does not compete with agricultural land and provides avenues to self-employment. Hence there is an urgent need to popularise the technology amongst the community.
Objectives
• To educate Students for mushrooms cultivation technology
• To help build a knowledge on wild mushrooms; differentiating poisonous and edible mushrooms
• To impart hands on training on entrepreneurship development in Oyster Mushroom Cultivation
Rational behind the programme
There is a demand for technology at grass root level to enable people to break away from the poverty trap and to acquire a sense of livelihood. Training is generally being considered the outlet for an exchange of concepts within a community. Therefore, the program can help develop skills that can be useful for their livelihood.
Inaugural Function of the Program
The inaugural function of the program was chaired by Dr. Mukesh Kumar Yadav, an Assistant Professor from the department of Biotechnology, Pachhunga University College (PUC). After welcome address was given by the chairman, inaugural speech was delivered by Prof. Sibnath Deb (Chief guest). He spoke about the importance of becoming economically independent and the significance of the skill development programme. He also appreciates PUC for taking initiatives to conduct such programme.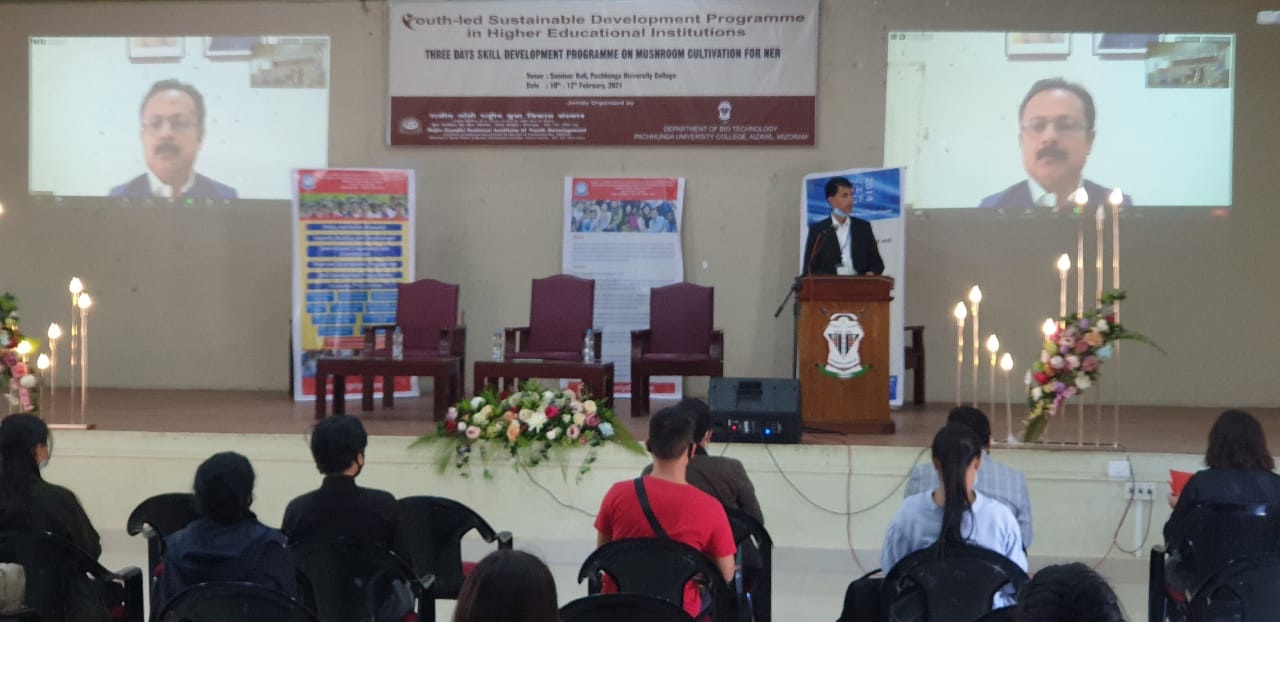 Topics Covered by the Resource Persons
The first lecture was a Special talk by Dr. Daniel Lalawmpuia from the Department of Economics, PUC. His topic was "National youth policy 2014 and sustainable development goals 2030". He started giving a brief introduction about national youth policy 2014 by mentioning the five objectives and priority areas. He mentioned that the policy was approved by the Union cabinet on 9th June 2014. He continued by explaining each of the objectives and priorities one by one along with its future imperatives.

He expanded his speech by talking the importance of youth and that India is expected to be the 4th largest economy by 2025 since the working population is increasing each year, and hence focus on the youth group is important. He continued by giving the definition of sustainable development by saying it is a non-destructive development to meet the need of the present. He proceeded to the next topic which was sustainable development goals which was adopted on the 70th session of the UN general assembly on 25th September 2015. India is also a signatory to the agreement. The SDGs (Sustainable Development Goals) has 17 goals and 169 targets. He continued his speech by explaining the 17 SDGs which was to be achieved by 2030.
The next speaker Dr. John Zothanzama, Associate Professor from the Department of EVS, Mizoram University spoke on "Introduction to Mushroom and scope of mushroom cultivation". He started his speech by giving an introduction on Mushroom by explaining mushroom is a type of fungi and the cultivation was started in 17th century in France. He mentioned that there are 500 identified edible species, out of which 60 species are cultivated. He continued his speech by saying the health benefits of Mushroom and the scope of mushroom cultivation in Mizoram. He continued his speech by explaining the production cost for starting the cultivation of each batch of mushroom.

Dr. Lallawmsanga, Scientific officer, DBT BioNEST talks on "Wild mushrooms:edible vs poisonous" and "Health benefits of Mushroom Research in Mizoram". He started his speech by sharing the most commonly eaten mushroom. He continued by sharing the commonly mistaken poisonous mushroom to be edible mushroom which include Agaricus arvensis and Agaricus xanthodermus etc. He showed the different poisonous mushroom which are commonly seen in Mizoram namely Amanita virosa (Destroying angel), Amanita phalloides (Death cap etc.)

Dr. Lallawmsanga taken up the next presentation, he enlightens us on how to identify poisonous mushroom, he gave a brief introduction on the toxin known as mycotoxin and amanitin the different ways to identify poisonous mushroom. He also spoke about the health benefits of mushroom. They are poor in calories and rich in proteins, fibres, carbohydrates, and important vitamins such as thiamine, riboflavin, ascorbic acid and minerals. He also demonstrated that the regular consumption of mushrooms or the consumption of isolated bioactive constituents present in mushrooms is beneficial to health. He highlighted the different medicinal properties of mushroom. Lastly, he spoke and taught about cultivation of Schizophyllum commune by explaining different steps.
Demonstration of Schizophyllum commune cultivation was taken up by Dr. Lalawmsanga andMr.William Carrie where all the materials required were provided by the resource person and the students were given hands on training on the cultivation of Schizophyllum commune.

The last speaker for Day1 Mr. William Carrie, Research Scholar from Department of Biotechnology, Mizoram University talk about "in-vitro technique for the cultivation of mushroom and preservation". He started his speech by giving a brief introduction about mushroom in general. He talks about the anatomy of mushroom and explain all the different parts of mushroom (Cap, Stem, Gills, spores, annulus, volva). He proceeded to the in vitro technology by explaining how it is performed by giving examples. He gave the outlines for in vitro mushroom culture.

The second day (Day2) was chaired by Dr. Prashant Kumar Singh, Assistant Professor, Department of Biotechnology, Pachhunga University College (PUC). The first speaker Mr. Francis Lalmalsawma Sailo, the owner of Zo Mushroom and the winner of Mizoram Kailawn, 2019 talks on Scope of Mushroom cultivation: from entrepreneurship point of view. He talked about his work in zo mushroom which is based on mushroom spawning, cultivation and farming. He spoke about how there is no GST for fresh mushroom in Mizoram and that the shelf life for fresh mushroom is less due to which it gets deteriorated during transportation from outside Mizoram. He also talked about the major constraints which are: farm designing, growing medium, crop management, pest and disease management, market and economy, processing and value.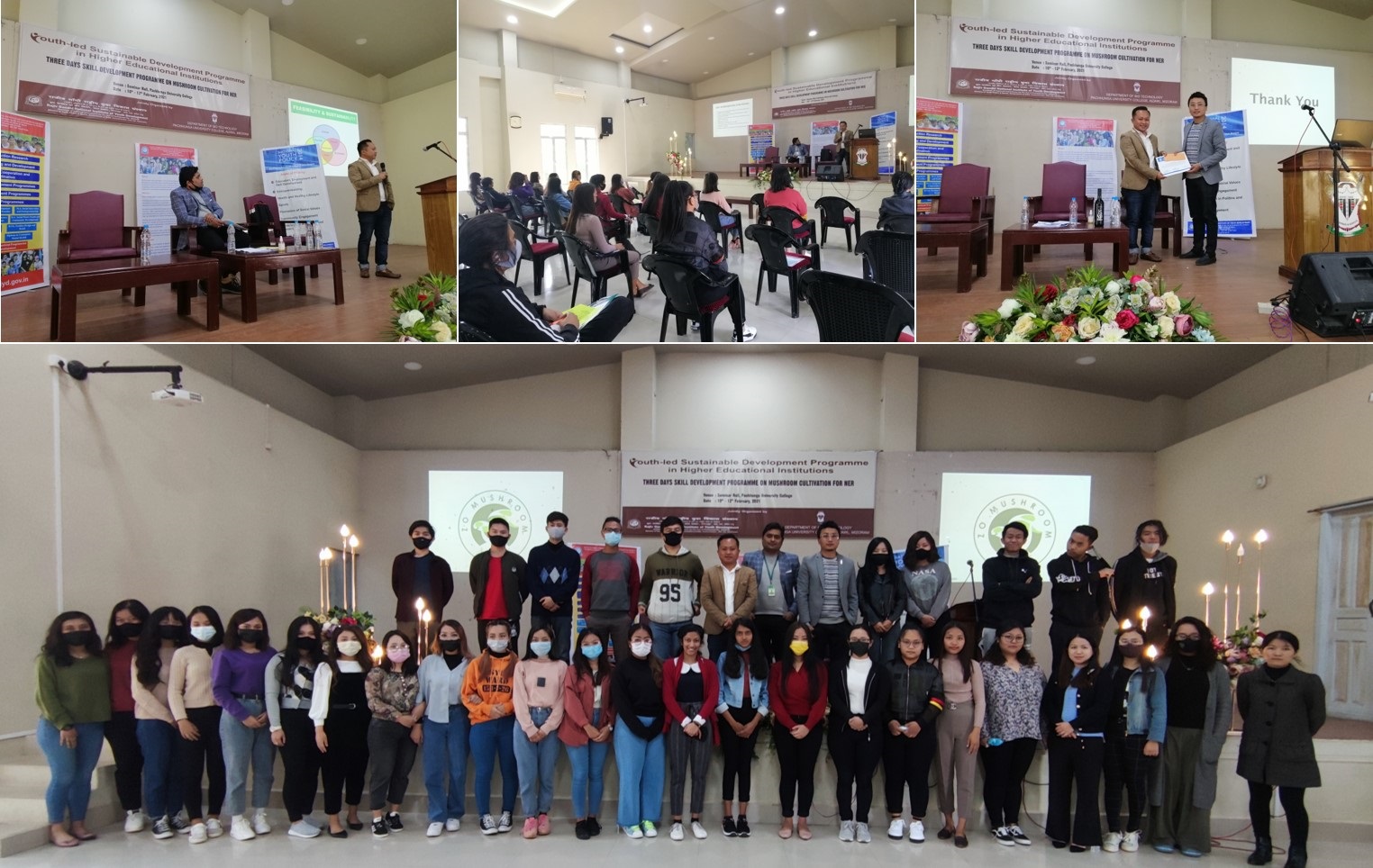 Mr. Albana L Chawngthu, Research Scholar, PUC taken up the next session with a topic Cultivation of Oyster mushroom. He spoke about the various techniques and requirement for mushroom cultivation especially POLYTHENE METHOD OF OYSTER MUSHROOM CULTIVATION.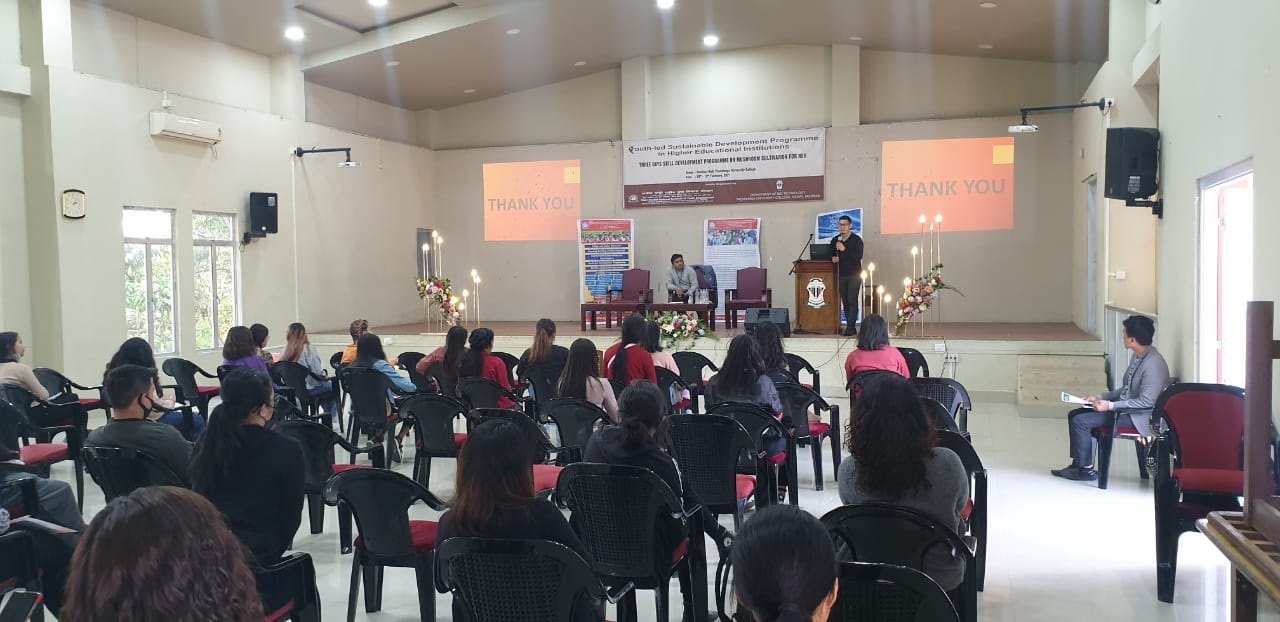 The second speaker for the second session was Miss HC Lalramnghaki, Research Scholar, PUC. The topic of her presentation was Growing house: substrate preparation and maintenance of mushroom cultivation. Miss Lalramnghaki gave a presentation about the followings SUBSTRATE for mushroom.

DEMONSTRATION:
Demonstration was taken up by Mr Albana L Chawngthu and HC Lalramnghaki, Research Scholars of PUC. They demonstrated the method of mushroom cultivation with the
Hands on training were done with the students where they learn the following:
1. Mixing of spawn and paddy straw in specific ratios in plastic bags
2. Mixture pressed hard inside the bags and tied using rubber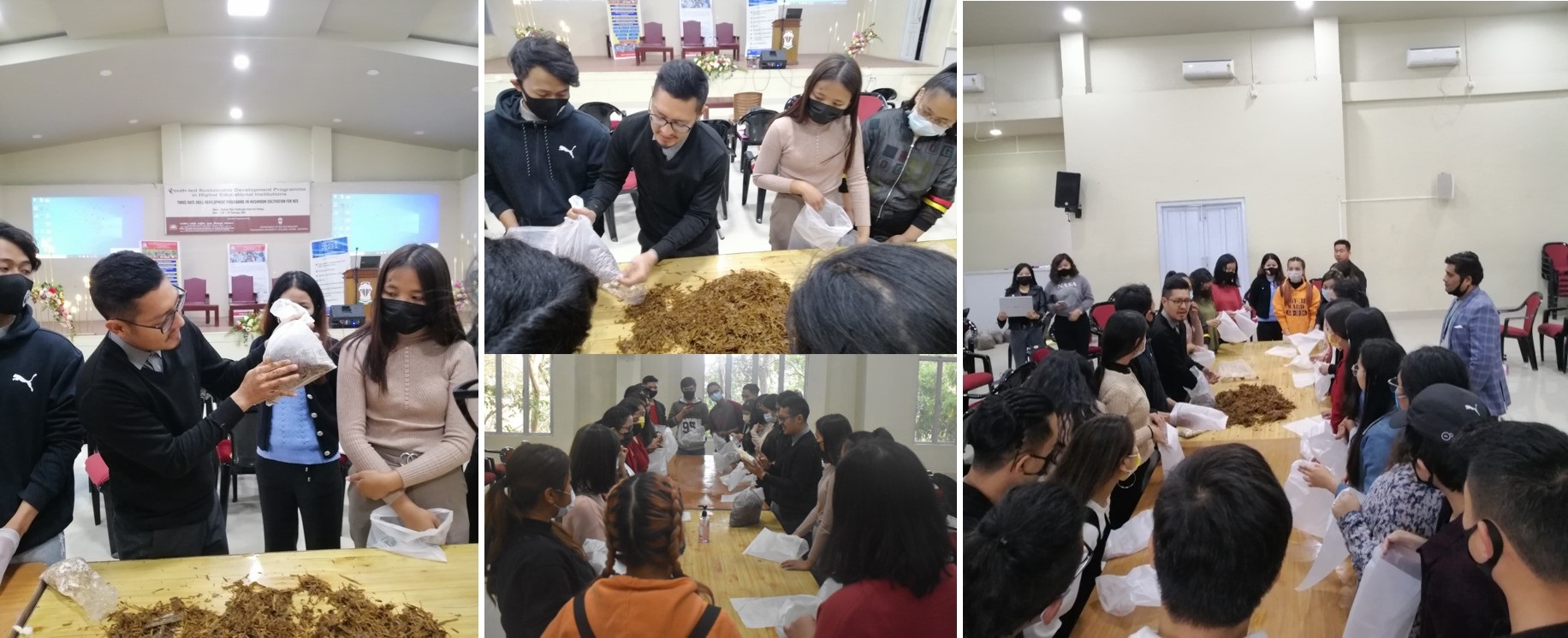 The third day (Day3) was chaired by Dr. Punuri Jayashekar Babu, an Assistant Professor from the department of Biotechnology, PUC. Certificate were distributed to all participants and organizers. Vote of thanks was delivered by Dr. Zothanpuia, Programme Coordinator, an Assistant Professor, Department of Biotechnology, He thank the funding RGNIYD, all the staff and colleagues of PUC and Participants.
All the participants and organizers moved to Government Mushroom cultivation farm at Chite, Mizoram using Buses and the staff and scientists, experts from the farm taken up the program by demonstrating and showing the techniques, rooms and mushrooms which were cultivated.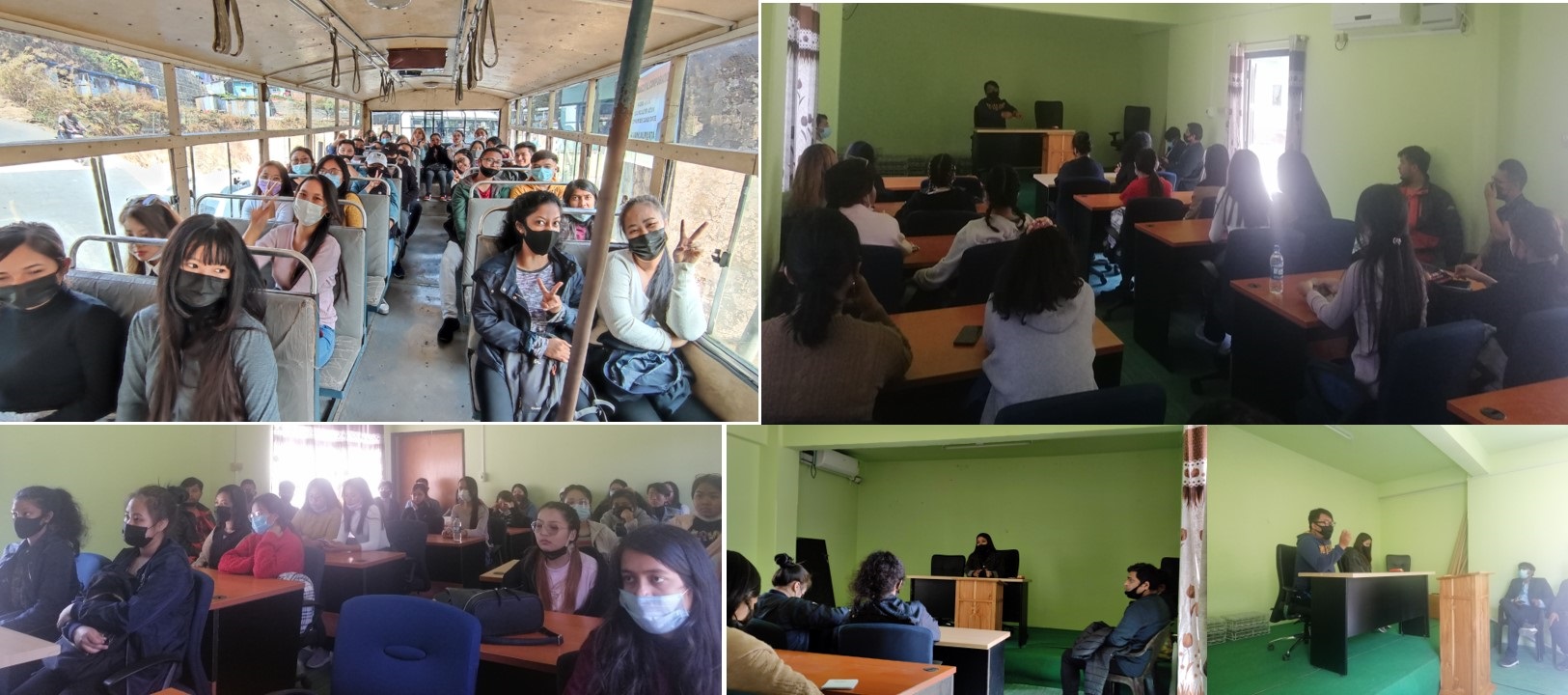 All the participants were presented with a mushroom block from the organizers as mementos, so that they can continue growing it in their own home.


A good feedback were received from all the participants and suggested if this kind of program can be organized annually will be more helpful.
Attachment: