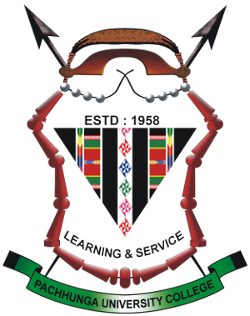 The Department of Commerce was introduced in 1984. At present the faculty consists of 4 Assistant Professors (regular) and two Guest Faculty members. The academic condition in terms of quality of faculty and learning transfer process is healthy and adequate. 3 teachers have research project works to their credit and four faculties have obtained their Ph.D. degrees. The department is deeply saddened by the passing of Dr. RKPG Singha in the year 2017; he had been the Head of Department since 2004.
Student profile – entry level competencies, socioeconomic status, language proficiency etc.
Students are admitted strictly on merit. The marks are calculated from core papers like Accountancy and Business Studies. Students largely come from rural background from low and middle income group. Students are mostly proficient in regional language and English. The subject is preferred equally by both the genders and the number of girls is increasing steadily for the last few years.
No. of Faculty: 6 (including two guest faculty); 4 are having PhD and all of them have NET/SLET certification.
No. of students in I Semester B.Com. - 64, III Semester B.Com. - 54, V Semester B.Com. - 54 : Total Strength = 172 (2018 enrollment)
Language proficiency: English and local languages
No changes made during the last 2 years, however an updated syllabus was introduced keeping in view the changing academic requirement 4-5 years back and the faculty members were actively involved and contributed to the updated existing syllabus.
Success rate: 2008 University Exam: I B.Com-58% II B.Com- 83%, III B.Com- 50 %; in 2009 University Exam: I B.com- 52%, II B.Com- 53 %, III B.Com- 100%
Dropout Rate: 2007 Batch -17%; 2008 batch -10%
A new Commerce Lab is being made within the Commerce block.
Tally Academy for studying Tally accounting software was started from 2017
Departmental Library is just started with few books
One Computer with laser printer is available.
One LCD projector for teaching aid, faculty is trying its best to use LCD Projector, for Power Point Presentation
Each teacher is assigned to look after a small defined group of students for their overall academic and personal growth
Teachers participated in OC and RC in outside University and benefited from such faculty development programmes
2 faculty members are actively engaged in research works and contributing to journals, seminar proceedings, edited books etc.
Priority Area: EDP, Marketing, Finance etc.
One Workshop on EAC was organized with IIE, Guwahati at the College.
Dr. Nalini Devi is a recipient of a national award 'Virangana Savitribai Phule Fellowship Award (2007)'
Dr Vanlalthlana received Bharat Vidya Ratan Award from International BUsiness Council in 2017
Dr Vanlalthlana was elected as a Member of Legislative Assembly (2018-2023) in the state General Election in 2018